SFM Outfits
DOAFantasy
Outfit Loader Data
Last Updated: August 21, 2017
The Outfit Loader data for the DOAFantasy girls. If you have downloaded them out of release order, you may not have the most up-to-date Outfit Loader data. Download and install this ensure you are up to date.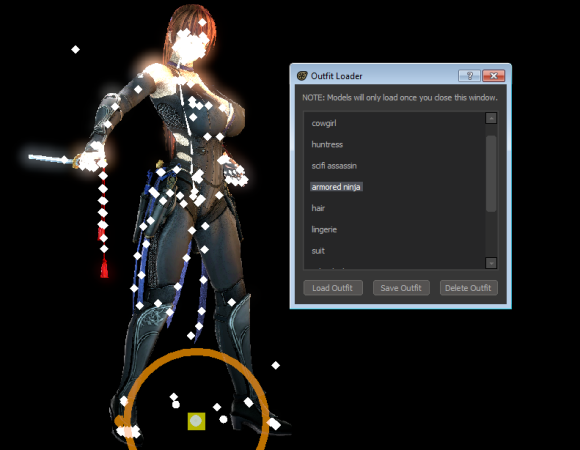 Stripper
Comes with black & white outfit, normal and mini bra, and 6 colors of leggings & glow-in-the-dark bangles: white, pink, black, green, gold, and red.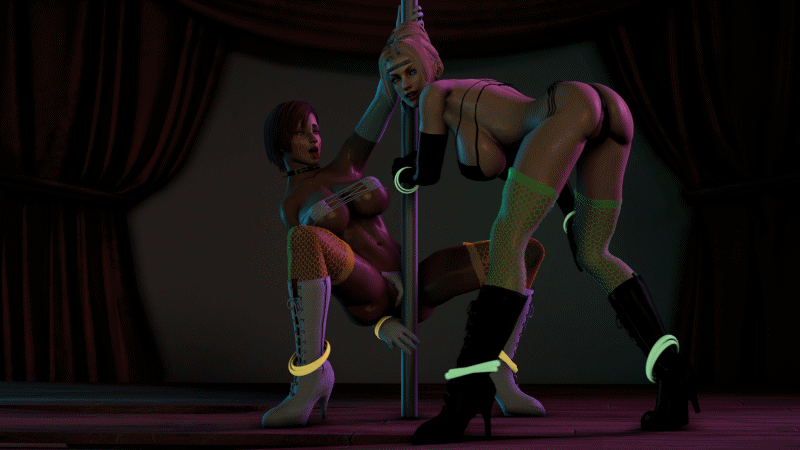 Huntress
Rachel's default outfit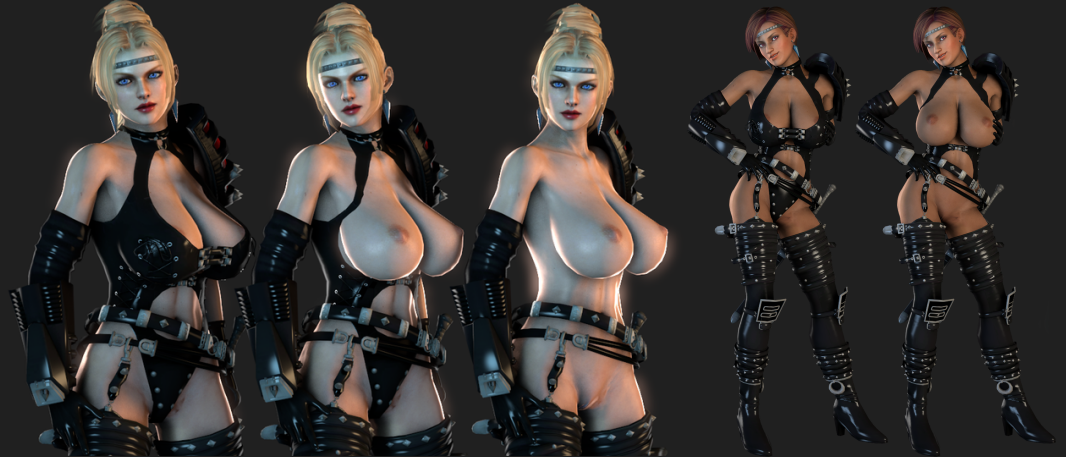 Exotic
Lisa's default outfit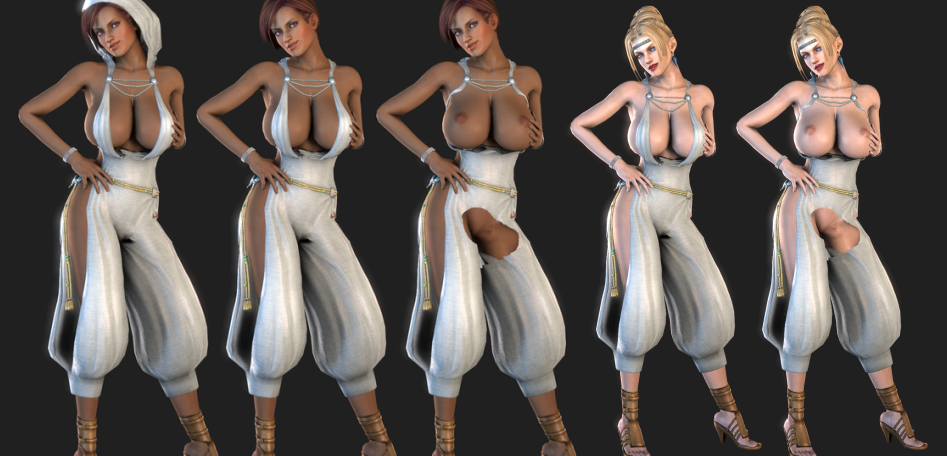 Sci-fi Assassin
Christie's default outfit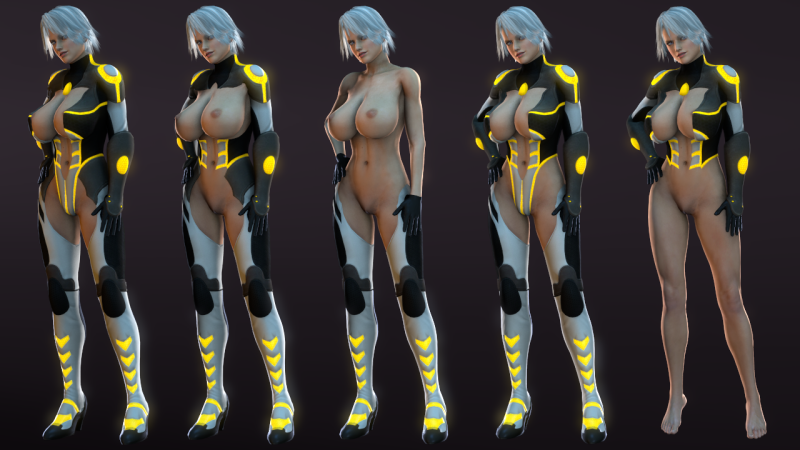 Schoolgirl
Comes with bra, braless, exposed, bare; full-length skirt, mini-skirt, hitched skirt; ankle and arm bracelets; high-heel shoes. Collar and fishnets in previews not included; come from stripper outfit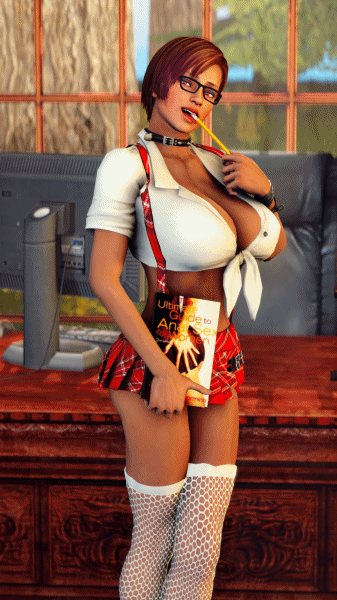 Nyotengu's Outfit
Nyotengu's default outfit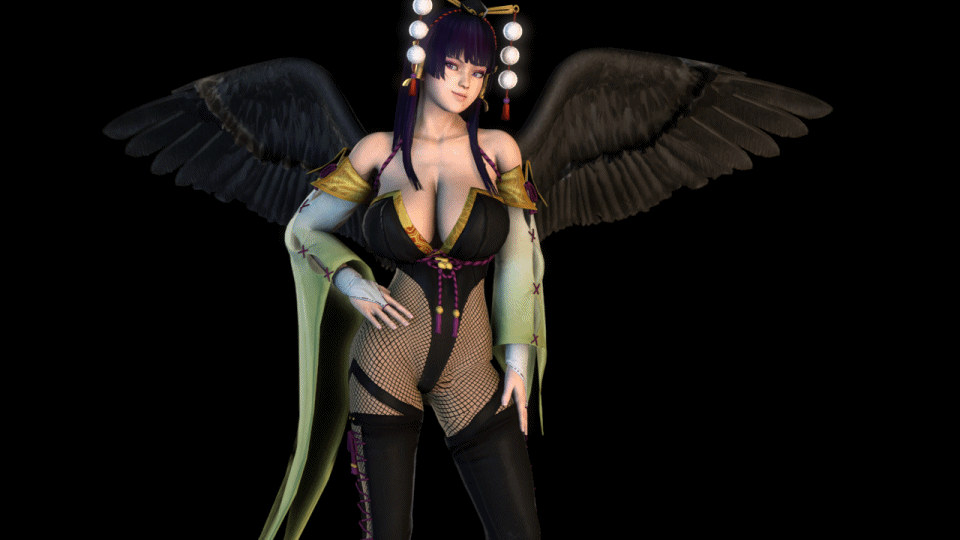 Ninja
Ayane's default outfit. Comes with a white skingroup, to be recolored in SFM with material overrides.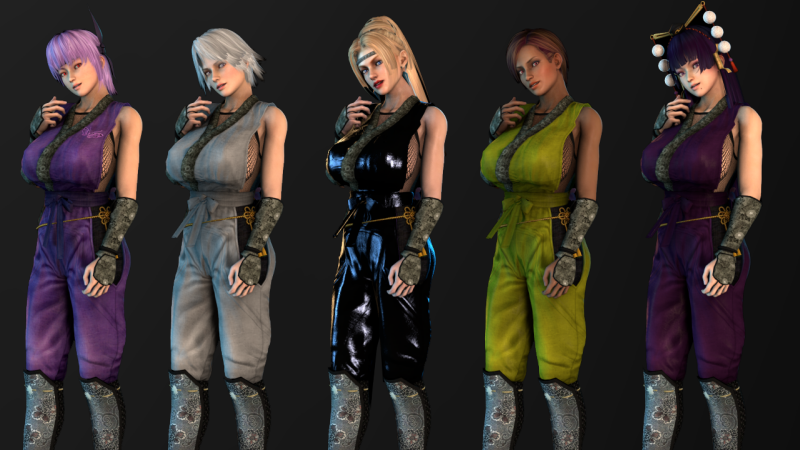 Suit & Lingerie
Suit with lots of variant ways to tease breasts, and port of Curvy Elizabeth's lingerie. Highly recommend to use Outfit Loader to load both. Includes Outfit Loader files for every girl and every outfit released as of August 7, 2017.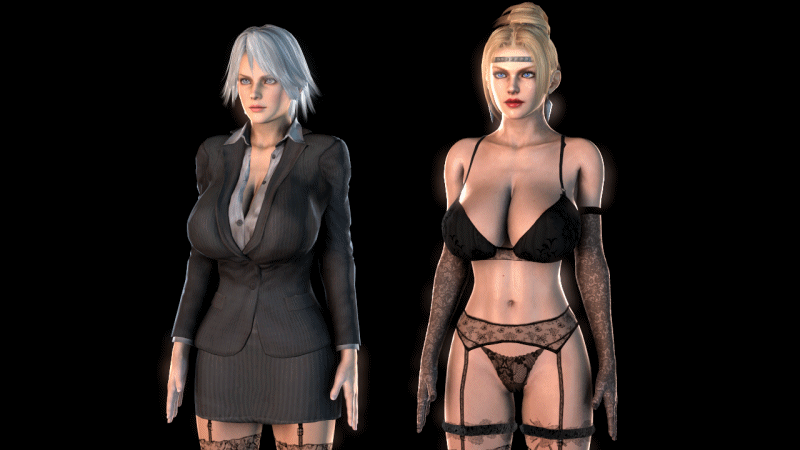 Cowgirl
Tina's default outfit.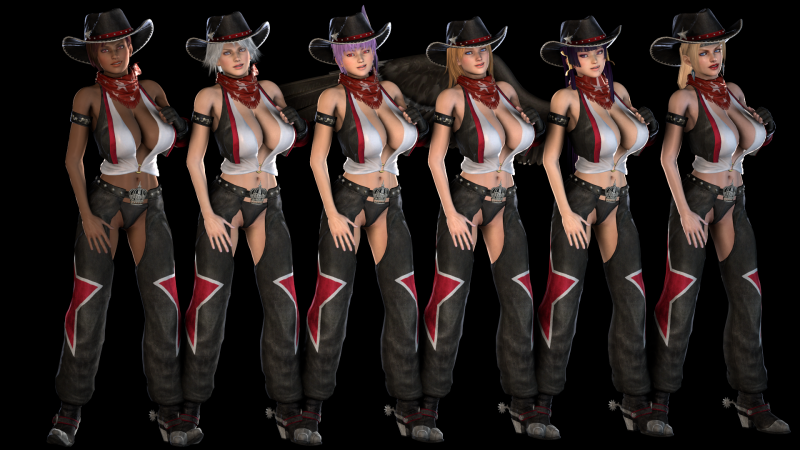 Armored Ninja
Kasumi's default outfit.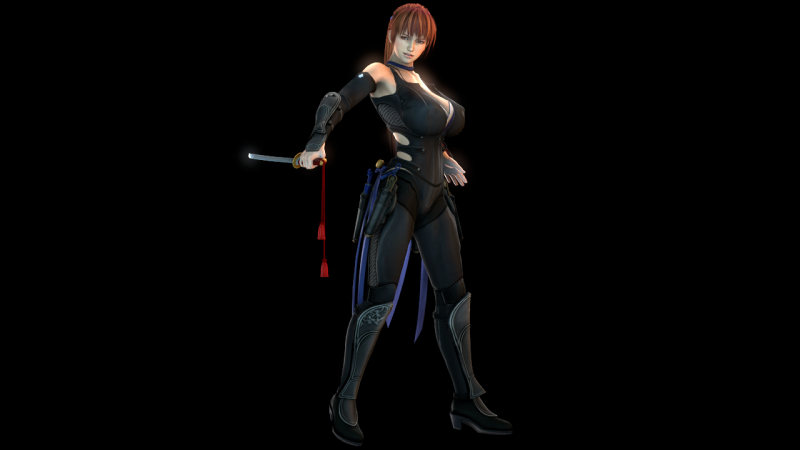 Sexy Ninja
Momiji's default outfit.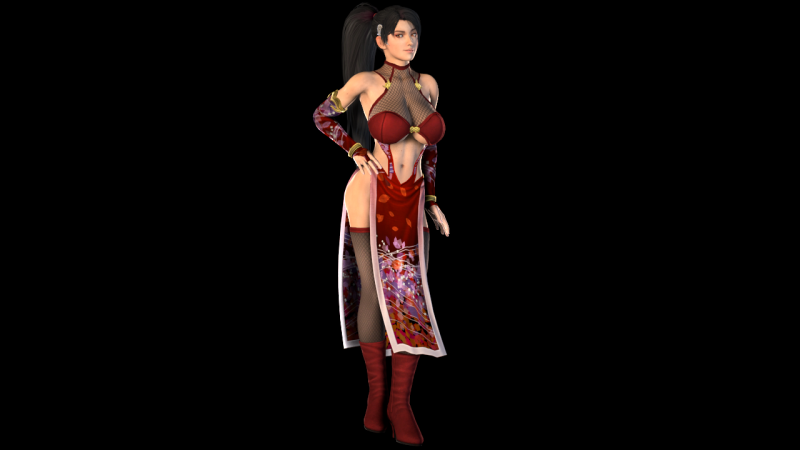 Noble Dress
Helena's default outfit.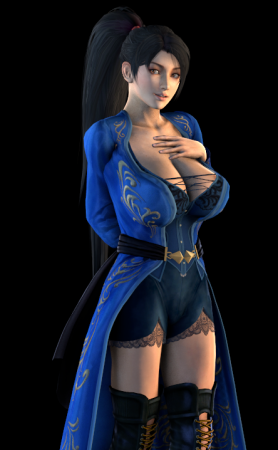 Pitcrew
A sexy, tight racing-themed outfit, with gratuitous cleavage. Has bodygroups to expose the breasts, bra togglable. No pussy/ass access. Comes in 8 colors and 2 materials: cloth and latex.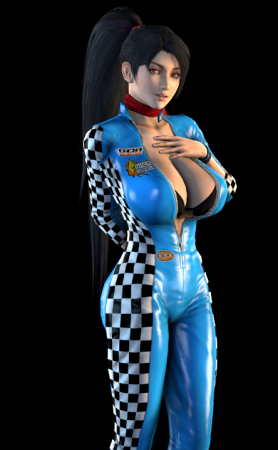 Goth
Custom outfit for Miya, the "Big Titty Goth Girl" original character.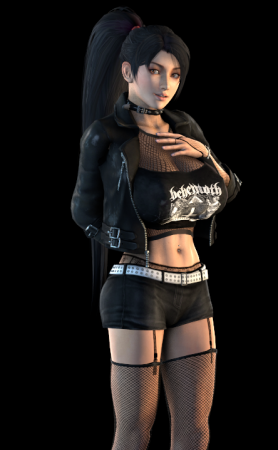 Trenchcoat
Tina's outfit, as worn in the short Miscellaneous Expenses. No bodygroups.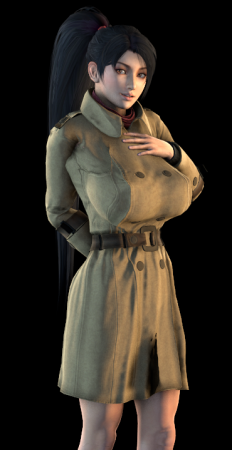 Pirate
An unfinished an abandoned sexy pirate outfit.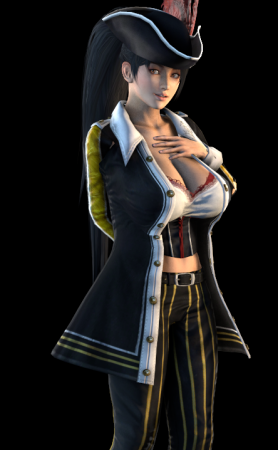 Mila's Casual Outfit
Mila's default outfit.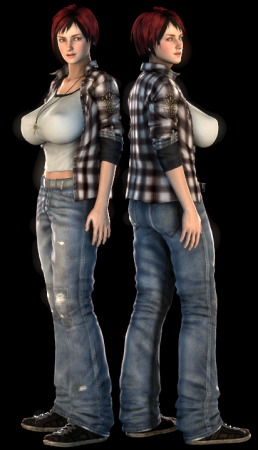 Oriental
Paichan's default outfit.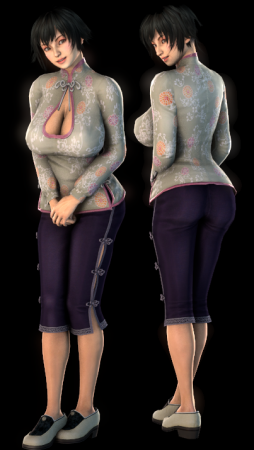 Curvy
Vault Suit
Comes with full, small-cleavage, large-cleavage, huge-cleavage, bursting, exposed, unzipped, cut, and torn shirt; full, naughty, working, cut, and torn pants; and boots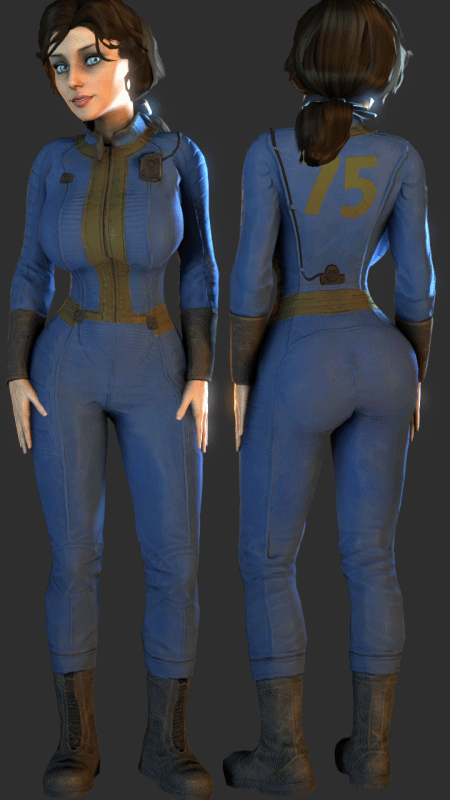 Lingerie
Comes with full and pulled bra; full and pulled panties; armgloves; garter; stockings; stocking belts; and bodymorph-friendly versions. Comes with various skins. Note that bodymorph-friendly versions are required to access all skins.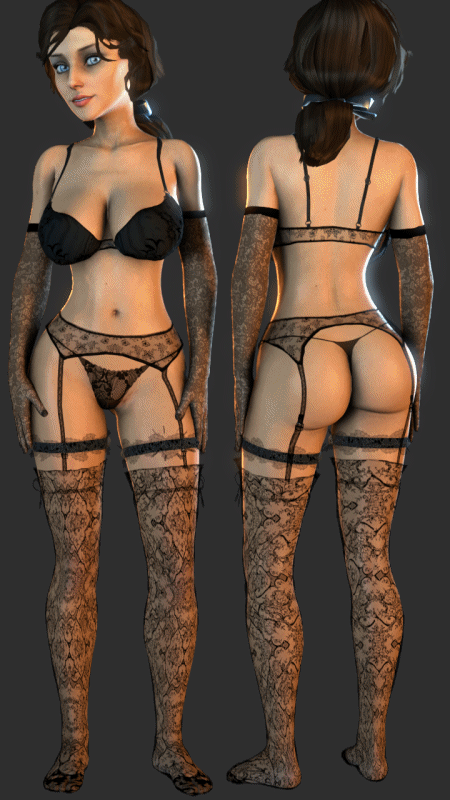 Christmas
Comes with full and pulled top; full, mini, and hitched skirt; a few togglable doodads. Skirt, bell, and glove tassels are rigged, and require to be hit with Default after attachment.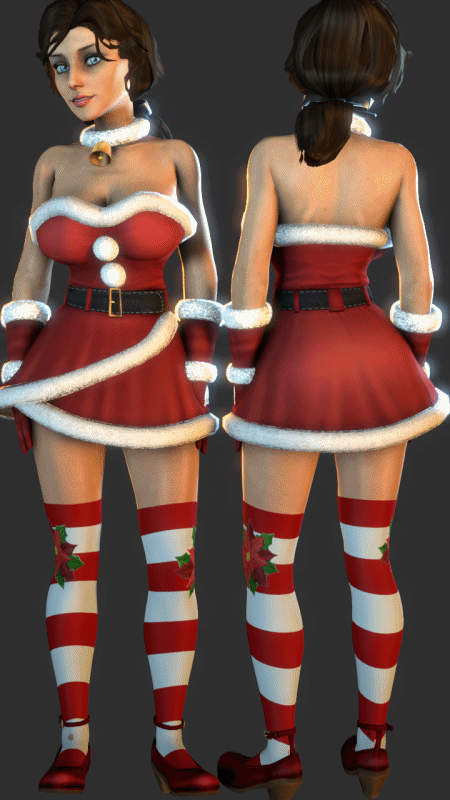 Fetish
Comes with various breast & hip bodygroups. Requires corset_pinch to be applied to about 50%.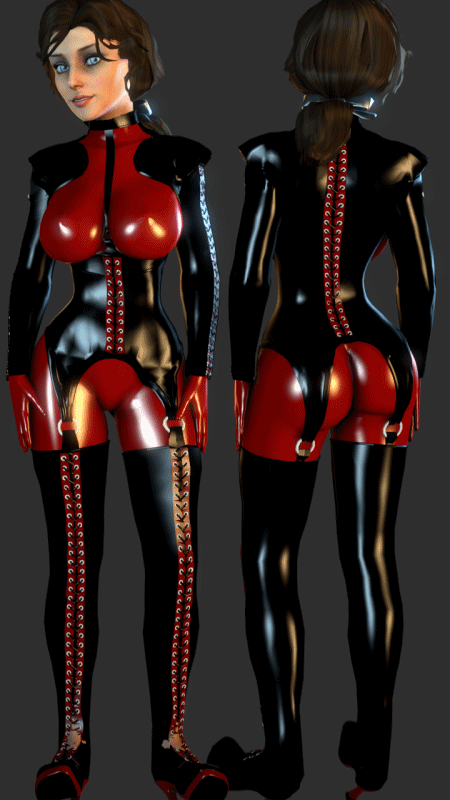 Slut
Comes with full and pulled shirt; togglable straps; light and dark skins.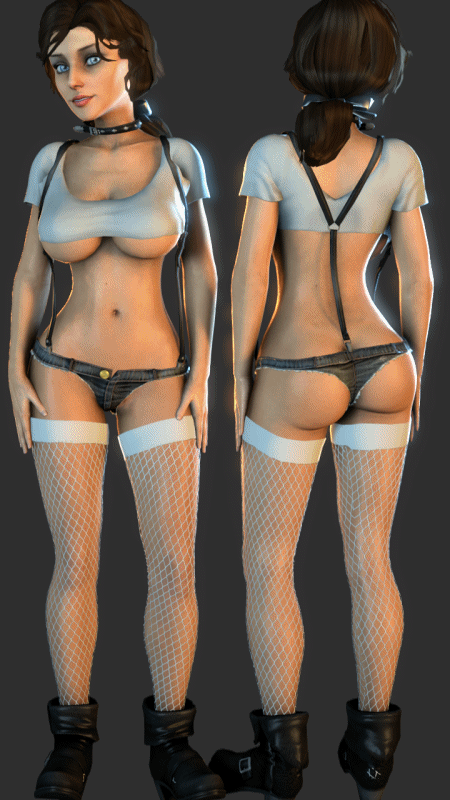 Stripper
No variants.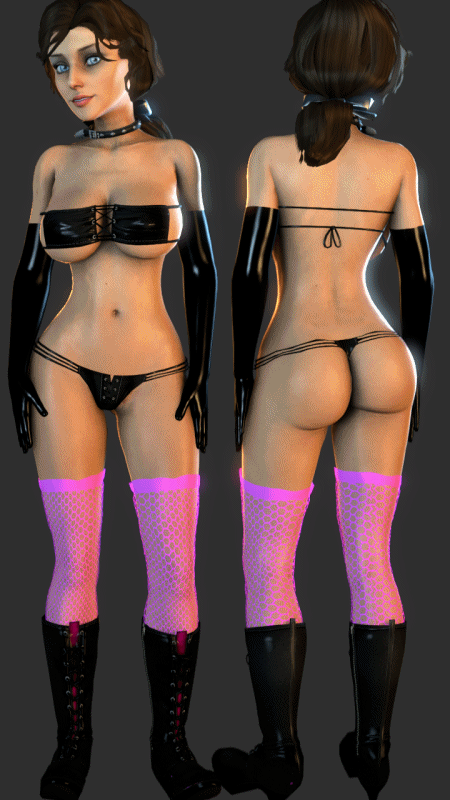 Sweats
Comes with full, cleavage, unzipped, and exposed shirt; full, butt-frame, and pulled pants.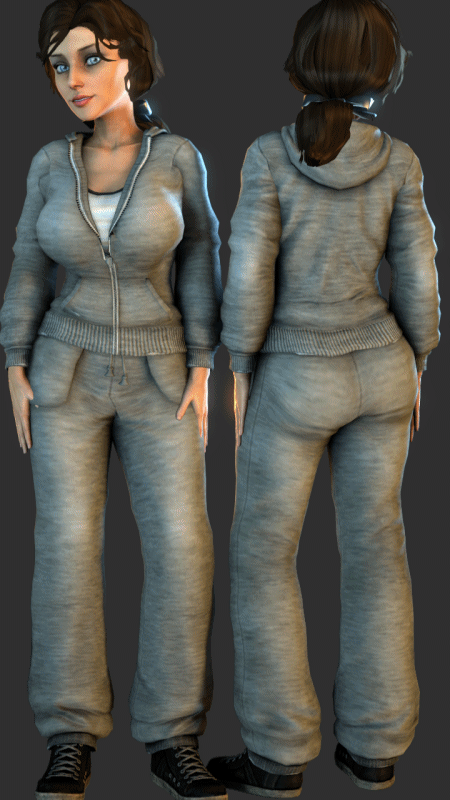 Bikini 4-Pack
Comes with 4 different bikinis.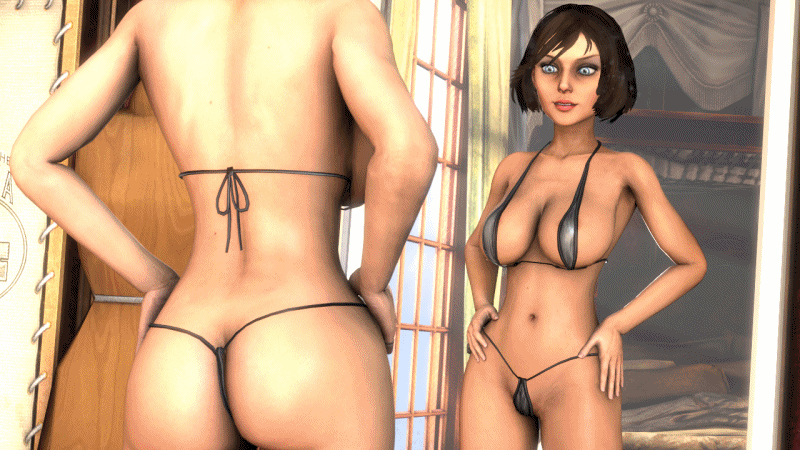 Casual
Handful of different shirt cuts / poses, pants can be pulled to various levels or cut / torn. Jacket and shirt are independently bodygrouped.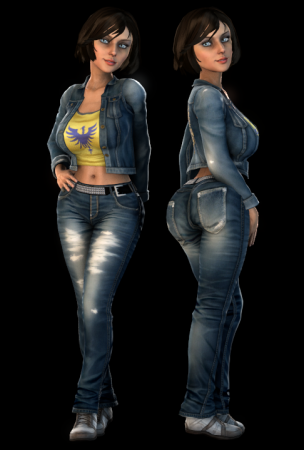 Lace Armgloves
Requires the lingerie listed above. A pair of lace armgloves. Comes with Outfit Loader data for a white-lingerie torn outfit. Has black and white skingroups.
Merchandise
Comes with two armglove/legging configurations: latex & thigh-highs / armbelts & legbelts. Comes with Outfit Loader data for the 2 configurations shown.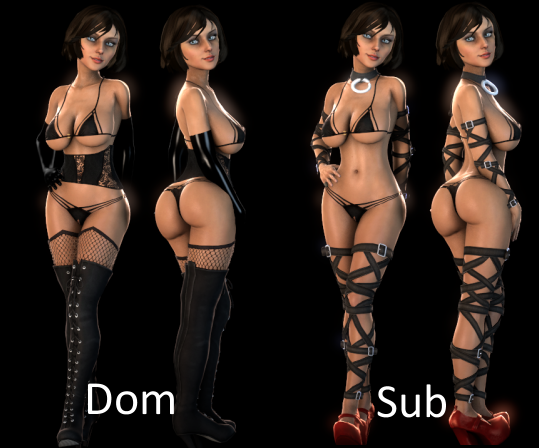 Showoff
Modelled from scratch by Ordagon. Was made for the scrapped Lulu project I had planned. Has bones for the bottom of the skirt.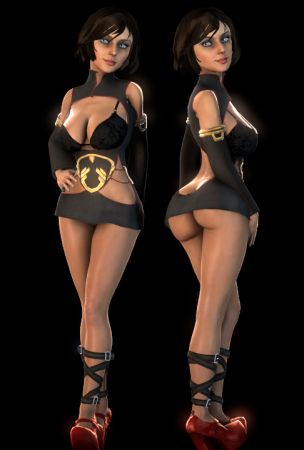 Thalmor
Custom Thalmor robes from Skyrim. Made for the scrapped Lulu project I had planned. Has bones for the dress.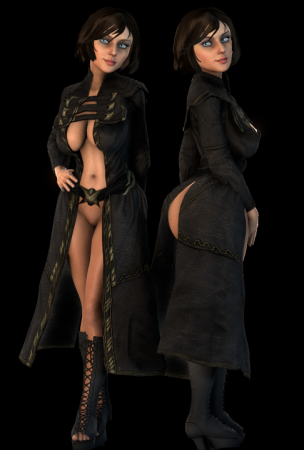 Chap-Skirt
A latex skirt with the ass cut out, for spanking, munching, face-sitting, and general booty worship. Image includes Merchandise outfit above. Comes with red, black, and colorable white skins.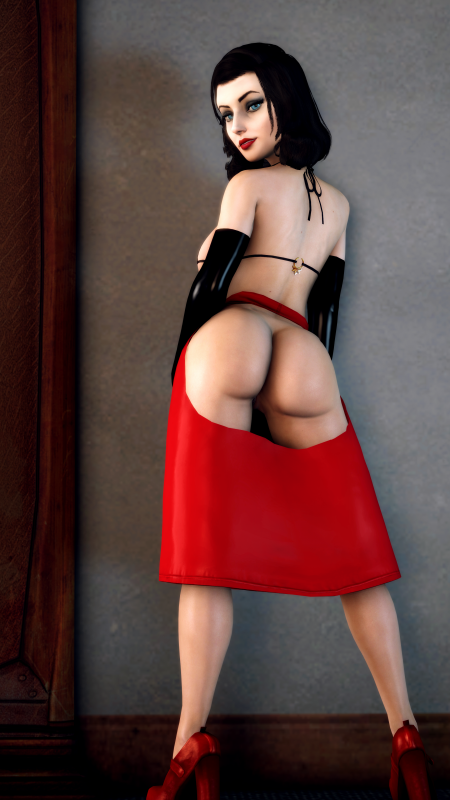 Generic Male
Suit
Comes with full, exposed, and pantless variants; 6 skins; originally from the Bastards pack. I cannot find a link to it unfortunately. Rebecca not included.